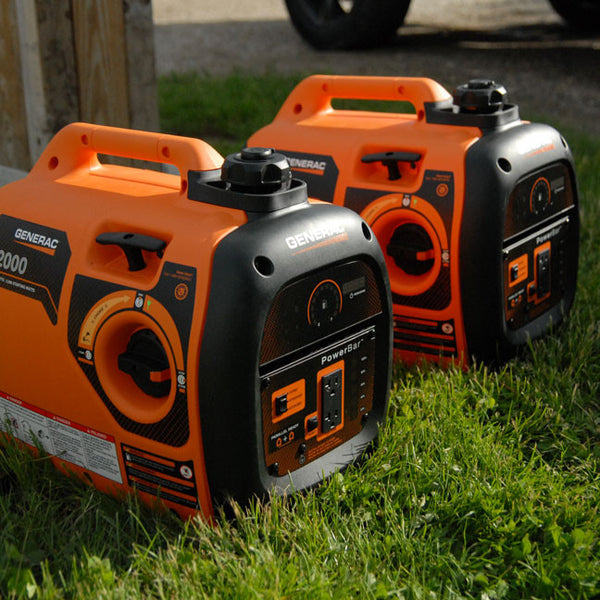 Generac iQ2000 Inverter Generator | Giving Honda A Run For Their Money...
Generac's iQ2000 Inverter Generator is serious competition for the Honda EU2000i.  Quieter and packing more features, it should be the go-to generator for any serious outdoor enthusiast or contractor requiring smaller jobsite power.  I was able to test 2 of these units during a weekend camping trip recently.  Needless to say, they were impressive little generators!
Boasting a 2000 watt surge rating and 1600 watt continuous power output, it's perfect for camping, tailgating and anything else that may need perfect power quality in a very compact and attractive package.
Capable of running in 3 different speed modes [Turbo, Standard, and Economy] it offers the user several options for sound output.  While in Economy mode, they're extremely quiet! Having this generator close by to a tailgating party is no problem!  If more power is required, the unit will automatically throttle up to the required speed and then slow back to a purr when the load is removed.
The front control interface of the unit is something that is going to put the other inverter manufacturers on alert.  It packs a ton of features that no one else seems to have included.
A major feature that I really enjoy is the fuel gauge and time remaining indicator clock.  These let you know how much fuel is in the tank, as well as how much run time you have left at the current load level.  When the applied load changes the time remaining clock will instantly change to correct the run time left with the fuel remaining.  During testing, the tanks were not full and so the timers are not reflecting the full run time of these units.  [Full run time is rated at 7.7 hours with a 25% load applied.]
The speed mode switch allows you to select from 3 different modes to suit any demand needs you may have.
Warning lights and 'ready to go' light warn you when there is an overload, low oil, over temperature, or that the unit is working well, warmed up and ready to power your items.  All are small LED lit graphics that make identification easy to understand.
The PowerBar is also another great design feature which is actually getting a facelift in the coming weeks from what you see here.  It shows the currently attached load in relation to what the unit will actually handle.  Ranging from 20% to 100%, orange back-lit squares illuminate as the load is applied.  This is a great way of understanding what you can connect to the unit and what power you have remaining to work with.
The PowerDial feature makes starting the iQ units extremely easy.  One twist of the dial sets the unit to run and activates the internal choke and fuel supply.  Once the unit is running, simply turn the dial 90° to turn off the choke and the unit is ready to go.  Once you're done with the generator another 90° and the unit shuts down and also shuts off the fuel supply to the engine. 
The pull starter is almost effortless thanks to an automatic internal engine compression relief.  There is very little drag and the generator starts almost instantly on the first pull.
Generac includes a container of oil with the unit.  The units that I received included a soft pouch-like container of SAE 30 with a small easy to pour spout on it.  The included funnel is a nice touch as well!  It threads right into the engine block's fill port for a no mess fill.  There's also a small lip built into the housing on the generator that catches any spills and funnels them out of the unit.  It should be noted that the entire container of oil is not needed and oil level should be checked as you fill the unit.
Should you require more power than what is available from 1 of the iQ2000's, you can parallel two of these units together for double the power output, providing a 30A 120V TwistLock receptacle to plug in larger items.  When using the parallel kit [Model # 6877 sold separately from the generator] you cannot use any of the 2 remaining outlets on the generators themselves. 
I was able to power a full-sized camper's air conditioning unit without any trouble using the parallel kit and 2 of the iQ2000 units.  They must be run in either Standard mode or Turbo mode with the parallel kit, but this is not really a problem since you already know you're requiring more power than 1 will hand out.  One thing to note is that you will require a small 120V 30A adapter (shown in the picture) to convert from the TwistLock to the standard RV type 30A plug.  This was about $12 at my local home improvement store.
An attractive cover is also available separately [Model 6875] to keep the generator clean when not in use.  Probably not a bad idea to keep dust, rain and debris out of the unit if hauling in the back of a pickup truck or storing it for long periods in a dusty area [such as a garage woodshop like mine]
There is also an available 50' cord reel which supplies (4) 120v outlets with a crank-type cord winder all built into one unit.  There's a small internal circuit breaker which can be reset should you draw too much power through the reel.  While this is not a specific item for the iQ units, it was still handy to have! 
Final Thoughts:
Overall I have nothing bad to say about these inverter units.  They were great right out of the box, were ready to run in less than 10 minutes from cutting the packing tape and required only a few seconds of warm up time before a load could be applied. 
I tested them with several varying loads from a 1500W space heater, to a 900W camper microwave, right up to the central air conditioner in the trailer [which did require the parallel kit and adapter I spoke about above].  I had no trouble running any of them and there was still some power to spare. 
They carry a 3 year limited warranty which is handled through Generac's extensive local dealer network.
Be it camping off grid, tailgating, running a sound system in a backyard, or just about anything where great power quality is needed, these would be my go to option.  With a price point MUCH lower [$799 (even less when on sale) vs $999] than Honda's EU2000i this just seems like the smart choice.
~Chris